November, 2014
now browsing by month
 Hey Hey everyone! I am so excited for this week because I've got an amazing lineup of blogs all willing to help me spread the word about my upcoming book Claiming Excalibur!!!
Aliana Fagan has done what many thought impossible: she's awakened King Arthur from his fifteen-hundred-year sleep, reunited the Knights of the Round Table, and even beaten Mordrid and Morgana LeFay in battle.
But the Destined One's quest has only begun.
Before the knights can "unearth and reclaim their lost relics" they must survive the trip to Charleston, South Carolina and meet the newest member of the Round Table. If King Arthur's men thought Aliana and Lacy were tenacious, they'll be even more surprised by Dawn, the third member of the fem-trio.
Deadly secrets, unexpected allies, and a traitor lurking in the shadows await Aliana and the new Round Table as they continue their search for Excalibur. Their only clue is a beyond confusing poem from a mysterious book that speaks of a terrifying creature guarding the legendary sword. Trying to build a somewhat normal relationship with Sir Galahad adds a whole new level of complexity to Aliana's task, especially when several among them suspect the White Knight may not be wholly himself. Her friendship with King Arthur grows closer, and when circumstances become intense, he may finally get the chance with Aliana that he's been pining for.
Mysteries, legendary quests, and haunting memories will either unite the members of the New Round Table or fracture their bonds. Aliana and her crew only have seven months before the planets align and Mordrid can seize the power he needs to conquer the seven realms. Can the Destined One keep her new family together and lead Arthur to his destiny of saving the realms? Or will a centuries-old plot for revenge finally spell the king's end?
 Ever since I first pitched Legendary to an editor from Omnific Publishing, and signing a contract for my saga, life has been a whirlwind of fun, anxious nerves, writing, creating and meeting some amazing people. I can't thank Omnific enough for taking a chance on an unknown author! My team to Omnific is beyond amazing, and so are the other authors. I love them al also much. And speaking of amazing authors, several of my sister authors have graciously put up e-copies of their books to be featured in my giveaway this week! I can't thank them enough. One lucky winner will receive 9 new ebooks including the ARC of Claiming Excalibur!
 There are plenty of ways for you to enter in this amazing giveaway, but only 1 lucky winner will get this prize so be sure you give yourself the best chance!
My entire series was founded on two different thoughts, the most recognized line from all Arthurian lore: "Once and Future King" and this:
 And it all starts here with the first book of the Saga: Legendary
  Aliana Fagan spent her childhood traveling the
world, dreaming of legendary heroes and mythical lands. But after the sudden death of her parents, she hides behind the safety of her camera and her art until a vivid recurring dream compels her to dig into her father's research about Avalon and Camelot. When she is hurled into a magical realm by forces she thought were only the stuff of fairy tales, she finds herself thrown into an adventure she could never have imagined. Nearly everything she thought she knew about Arthurian legend was wrong. The independent eighteen-year-old is shocked to find that the people of Avalon think that she is the Destined One, the only person who can summon King Arthur back to life from his hidden chamber. Most surprising of all is that it's up to her to lead the Knights of the Round Table on an epic quest-an adventure that will transport them across the seven magic realms to reclaim all that has been lost so they can defeat the evil Mordrid for good. But first, she must bring the ancient warriors into her world and reunite them with their lost brothers. Chaperoning the legendary knights-with-a-chivalry-complex as they navigate the modern world is a constant challenge, and she certainly never thought she'd be caught between her intense feelings for the noble Sir Galahad and her growing friendship with the King. To fulfill the prophecy, Aliana will have to discover the meaning of friendship, bravery, loyalty, true love, and forgiveness. But can she do it all in time to save the realms from Mordrid's impending Armageddon?
Even better, I am giving away 2 signed copies of LEGENDARY on Goodreads–along with swag! The contest runs all the way until the release of CLAIMING EXCALIBUR so don't miss your chance to get some hard copies!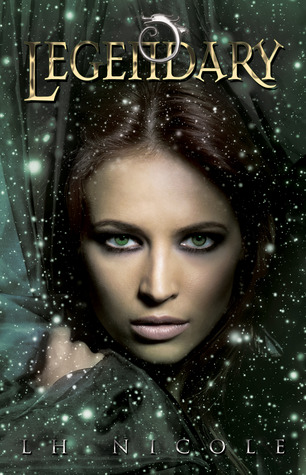 There are a bunch of great blogs taking part in this week-long promo tour so here are the links to follow:
SUN:
Smexy Fab Four     LBM Book Blog      Trying to Do Something That Matters to Me
Madly in Love with Books
MON:
AJ's Bottylicious Book Reviews    Monday Love 2013   Miss Little Book Addict
TUE:
Blue Chrysalis Book Promotions   On Writing and Riding    Jessica Heffner
WED:
Sandra Love    Book Worms/Book Written Love Affairs    Books You Can't Put Down
THUR:
Naughty Girls of Romance    Stalking the BookShelves    Blushing Diva Book Reviews
FRI:
Meradith Tate     Nicki Elson's Not So Deep Thoughts     Angela Myron
Miss Little Book Addict YA House of Books
SAT:
The Book Nuts      Fictional Rendezvous Book Blog    Archaeolibarian I Dig Good Books
Reader's Heaven     Dying to Read and Weaving Tales   Sweet and Sassy Book a Holics
Yikes, what a list, and I can't stop grinning! What a great surprise to have so many people willing to share my book! As the links go live I will link the sites so it's easy for you everyone to find the posts! Visit one or all, but a few blogs will have some extra scenes or different ones from the others. I hope you enjoy it all 🙂 <3 always LH a Rafflecopter giveaway